January 12, 2016 at 10:38 pm
#133103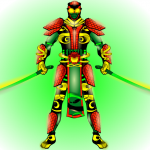 Viper
Participant
Name: Colt Matthews
Universe: Superhero
Species: Human
Status: Villain
Age: 31
Dominant Hand: Right
Good guy gone bad here, and a very deadly blade master to add to that.
Colt's lust for power turned him against everything he stood for. However, his reign of madness was cut short when he was destroyed by Galactic Viper, an ex partner of his.
Attachments:
You must be
logged in
to view attached files.