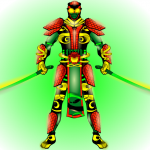 Viper
Participant
Thanks Wolvie.
Name: Xytheus
Universe: Sci-fi
Species: Clejian
Status: Hero
Age: 105
Dominant Hand: Right
Xytheus comes from Clejiito, the luscious, forestry planet with an orange sky and three moons. He is one of many commanders for the planet's military system and is built physically on solid muscle as well.
Xytheus, like all of the Clejian warriors, are the most lethal when they are up close and personal. That's the first and last time you witness the amount of their brute force.
This reply was modified 2 years, 5 months ago by Viper.
Attachments:
You must be
logged in
to view attached files.