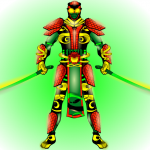 Viper
Participant
Name: Serene Cavill
Universe: Superhero
Species: Human
Status: Villain
Age: Unknown
Dominant Hand: Right
So I went back through all my posts and I realized something important, and that is… that I cannot write a good bio at all. Sooooo I'll skip that part for now until forever and yea. Cool!
Anyways, I have a snake themed lady here, one who is just as deadly with her swords as she is with her pyrokinetic abilities.
This reply was modified 2 years, 6 months ago by Viper.
Attachments:
You must be
logged in
to view attached files.