November 3, 2014 at 5:52 am
#114290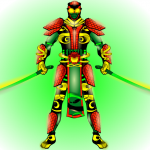 Viper
Participant
@stulte Yea I'm still here, it's been a long time since I've been on though. Anyways, long over due villain right here. I Hope you guys enjoy!
Name: Marcus Slade
Universe: Superhero
Species: Specter
Status: Villain
Age: Unknown
Dominant Hand: Left
A random scorpion themed character.
This reply was modified 2 years, 5 months ago by Viper.
Attachments:
You must be
logged in
to view attached files.