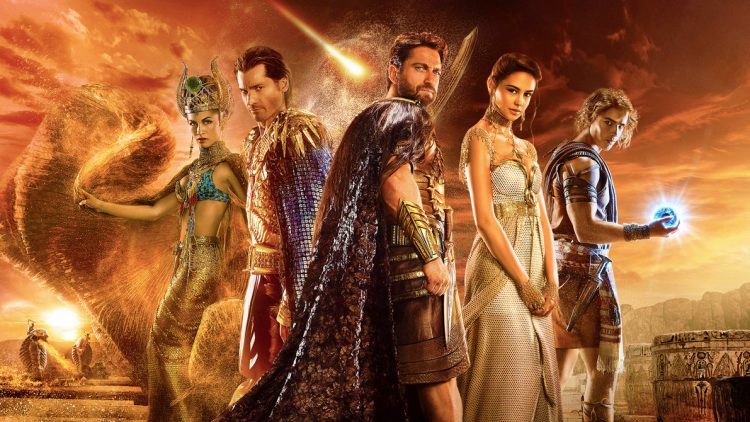 I wanted to do something a little different. I've been rounding out my top movie lists for the year and there was one that I'd seen bits and pieces of but hadn't actually sat through the whole thing. And that movie was Gods of Egypt. I had no illusions that this would be a good movie, so I was going to try something new. I was going to hate-watch it; in that I was going to sit down with snacks and some wine and roast the movie as it played. Since the weather prevented me from seeing Assassin's Creed last weekend, this seemed to be as good a time as any. Now, I haven't done something like this in a long time, not since maybe Doom. There's been several unintentional hate-watches (Troy, Alexander, Batman v. Superman: Extended Cut), but nothing I've really set out to watch that I knew would be this bad. Also, instead of a regular style of review, we're going to go on a journey together. We're going to explore all the 'best' moments as they happened, live-feed style (non-timed entries are general observations). I took my notes specifically with this in mind, so I can bring them to you here pretty much word-for-word. Warning for spoilers as well, I guess. Either way, I hope you enjoy.
Pre-Movie:
-Runtime is 2 hours, 7 minutes. Got my libation for this evening, let's get this show on the road!
And Thus it Begins:
-2:30- Oh, this CG…..
- These Egyptians are rather… European looking
-5:30- Okay, those women and Horus are definitely not in that shot at the same time. The fact that Horus was on a green screen is painfully obvious.
- The costumes are loud, garish, and ugly, at least for the gods. Not regal.
-7:30- Why am I getting Star Wars prequel flashbacks?
- I'm very disappointed! I wanted Thoth with an ibis head!
- So flashy and over-the-top. Why could we not be a little more historical and less bad RPG armor?
- Osiris rocking the sequin cape!
-12:05- This is like an Xbox 360 cutscene. And that might be generous.
- Father? Who is their dad? Ra is not Osiris, Isis, and Set's dad! Their parents were Geb and Nut!
- Gerard Butler the Yelly-King strikes again! Only this time he's leading the scary masked soldiers instead of fighting them.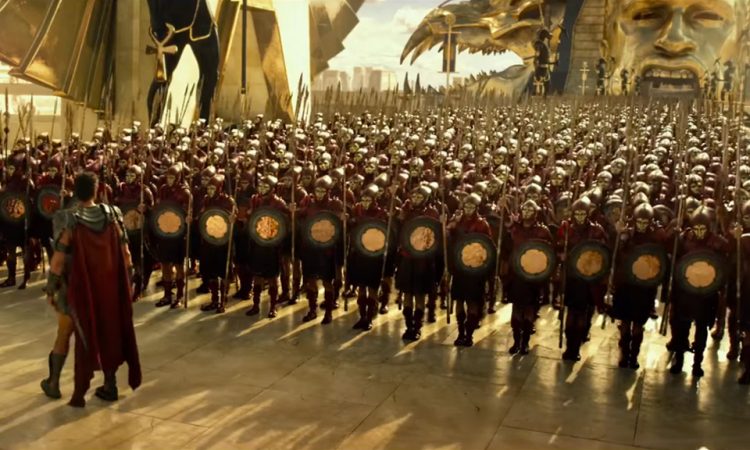 - 15 mins- Don't do a fight scene that does the 300 thing. Don't remind me of a better movie that I'd rather be watching! And stop shaking the camera!
- The graphics for this beast-mode Quick-Time Event really suck.
- So. Many. Cuts.
-Even the cups look plastic.
-25 mins- To be honest, this is kind of… boring.
-25:30- Those scorpions…. They were better in Walking With Monsters
-Where do you get that many scorpions? Good question buddy, now watch out for the THWOMP after this platform.
-GREEN SCREEN STRIKES AGAIN
-Costumes really are bad.
-29:50- Don't pull out the arrow ya numpty! You leave that in! In!
-Y'know, at least the green screen and fake-looking background were part of the highly stylized aesthetic of 300. This is just shoddy.
-32:40- Horus, I have come to bargain!
-So they're like MCU Asgardians?
- Poor Anubis. He looks baaaaaad.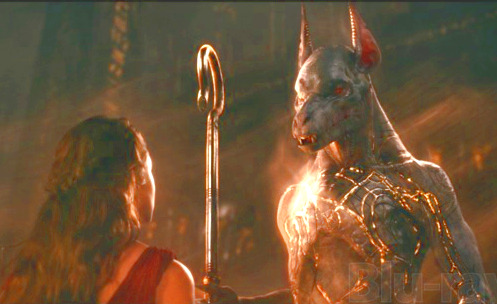 -Why doesn't anyone's crown look like and actual Egyptian crown?
-46-47 mins- this battle is ugly looking. Got nothing on Warcraft's cinematography. That movie looked great.
-51:35- This waterfall could not look more fake if it was a piece of cardboard with the word 'waterfall' written on it.
- Kratos is much better at fighting Minotaurs
- Oh look, another Quick Time Event
Snack Break Talk
-54:18 into the movie
-The most offensive thing about this is that's it's kind of boring. Although, big action set pieces are yet to come.
-What happened to Isis? They haven't even mentioned her since the beginning.
The Movie Resumes
-All of the humor falls depressingly flat
-1 hour in- After Osiris was killed and chopped up, Isis DID NOT KILL HERSELF! ARE YOU KIDDING ME? SHE STOOD UP, FOUND ALL THEM PIECES AND BROUGHT HIM BACK! **** THIS STAIN OF A MOVIE FOR SO BLATANTLY TOSSING ASIDE A GODDESS WORSHIPPED WELL INTO THE ROMAN PERIOD, AND CONSIDERED TO HAVE GREAT POWER! ***** YOU AND THE BATTLE BEETLE YOU RODE IN ON! (Note: this is a censored version of a tirade I went on regarding a single line of dialogue).
-To be honest, I've been figuring out people's names because we have the captions on, rarely from the dialogue itself.
-1:01:50- A white snake? (Husband breaks into "Still of the Night")
-ummmm, snakes don't roar.
-1:02:19- Halfway through the wine, still doesn't feel like enough for this.
-I don't care about any of these characters.
-Closed captions save me again! White woman on white snake- Anat, black woman on black snake- Astarte. Their 'snake saddles' look like Chitauri cruisers tho.
-Thoth is hiding on a sunnier Dagobah? Ugh, Chadwick Boseman was much better as Black Panther.
-1 hr 16 mins- trying to have character and emotional stuff. The acting is either meh or over the top in this film.
-1 hour 19mins- another Quick Time Event.
-Thoth's gown is lovely. We should see that on the red carpet sometime.
-1:20:33- That's the Sphinx? Do these people know what a sphinx looks like?
-1:22:20- Did it just say 'oh bother' like it was Winnie the Pooh? Really?
-You know, I don't care about Horus and Hathor's relationship. Like, not at all.
-You don't get into the afterlife if it's heavier than the feather! I don't care about that crap Set said like an hour ago.
-Set gets an armor upgrade- increased stats but that cutscene was hideous.
-The one liners never land, either.
-1:36:28- This is bad, imitation, free-to-play-on-Facebook fantasy RPG armor. This shot doesn't even look like Photoshop, it looks like MS Paint.
-These fight scenes are so badly shot. They're all so choppy. Are we trying to hide poor choreography? What?
-1:42:00-ish- Why does Set's armor looks Greek now? It's gotten Greek-er as time goes on. I guess that is what happened with the Egyptian royalty. Too soon?
-Even the music is bland and uninspired.
-1 hour 50 mins- Horus looks like Solid Snake in this shot.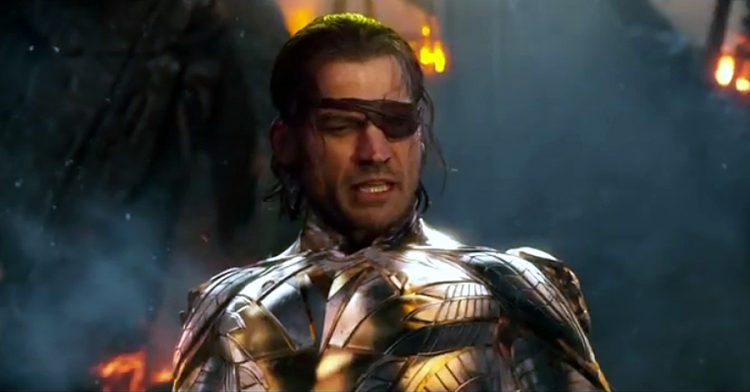 -Pope Ra. Every time, we laugh about Pope Ra.
-Horus is too shiny in that armor. Everyone's too shiny in the CG armor.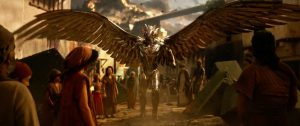 -So everything's cool now?
-So what about everyone who died while Set was ruling? So they get a do-over with them scales?
-Honestly, Alex Proyas? What did I just watch?
So that was Gods of Egypt. Obviously a terrible movie. I could only possibly recommend it if you watch like I did, with drinks and other people to make fun of it with. It looks awful, the acting is either dull and lifeless or completely over the top, the story is uninteresting, and the music is utterly forgettable. The only reason it isn't top of my Worst List for 2016 is because I don't even think I could watch Number One again, even under the circumstances I watched this one (that list will be coming soon).
Hope you enjoyed my little experiment! Happy 2017 everyone, and here's to better movies in the New Year!