Hi all! Marx here, once and future contributing artist. It has been... Wow!It's been two-and-half years since my last post when I introduced a series of new suit coats. Apparently, I am still on a contemporary fashion kick because I'm back - this time with shirts.
I've found that HM simply does not offer enough button-down shirts that coordinate and layer well with other HM options. While there are plenty to choose from, either they don't fit with a coat over them, or with a neck tie, or tucked into pants, or untucked, or the sleeves were the wrong length, or the collar was too open, or not open enough.
So I put together a collection of 24 items that can be used to create pretty much any kind of contemporary button down shirt. You can mix and match any of these pieces. They conform to the standard body, so you can layer coats over them, or use them with pants either tucked in or untucked. They all use the same sleeves, so you can also customize the sleeve length and shape. And there a options for customizing the pocket(s).

Best of all, I created all 24 items for both male and female. You'll find these new items in Tops > MaleStandard and Tops > FemaleStandard. (As usual it's strongly recommended to clear your browser cache to see the new items - but be careful when doing so, since you could be loosing all your saved files. Better if you save those externally as text files beforehand.)
Yes, admittedly the collars should have gone in Neckwear, and the pockets in Insignia, and the epaulets etc. in Shoulders, and the cuffs in Gloves. But these items were all designed to work together, and so I felt it was worth while to group them all together.
Just to inspire you, I've put together a montage of various contemporary looks that you can assemble with these pieces. Hopefully, I got these out in time to see a few more in the first round of JR's Friday Night Fights.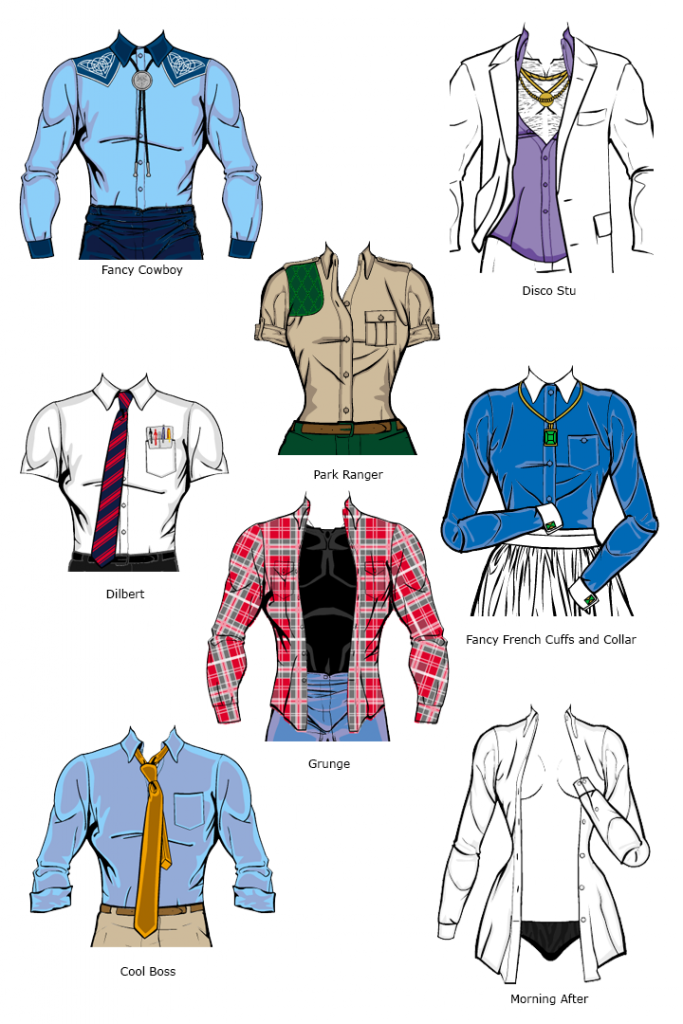 Enjoy everyone. I'll post again in another year or two.