Last week I asked you to give me your best replacement dialog for this image: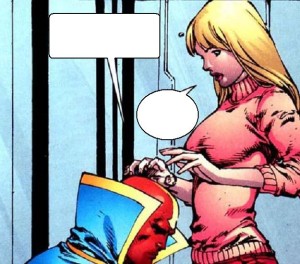 and here are my top five:
Marx
Red Tornado: …Next, the first loop goes under the second, then you pull them tight.
Girl: I really should have learned to do this myself years ago.
Skybandit
Red Tornado: "Measurements say eight foot nine."
Too Tall Lass: "And I suck at basketball!"
Mad Jack
He: You have beautiful eyes.
She: Eyes up here! I know you're a robot build to act like a man, but you really overact!
Worf
Red Tornado: Do you think I'm going bald?
Girl: No! Your hair is the same as it's always been.
Wayne
"It's been three hours. Can we stop now? My head is killing me."
"Ugh. You complain WAY more that my last djembe! That's the last time I buy a drum on Craigslist."
The winner is .....................................
MARX