We're going to mix it up a bit this week and try something new with the character creation contest: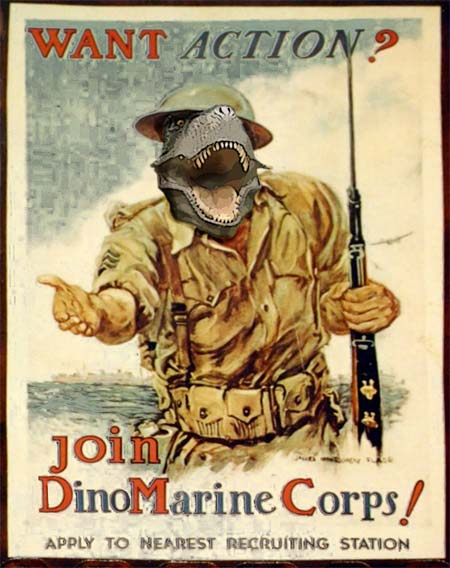 Your challenge is to create a member of the elite super team known as the "Dinomarines" (with thanks to Seventh Sanctum for the name)!
Next week I'll pick what I consider to be the best, coolest looking, most creative submissions who will form the Dinomarines, and you all will get to vote on which of them you think is the best, and thus the leader of the team. I have to admit, I am almost giddy with anticipation about what you all will come up with! Are they humanoid dinosaurs in military garb hunting down Terrans? Or are the Earthlings whose mission is to hunt down dinosaurs? Or just regular elite marines who took the nickname Dinomarines in honor of their ferocity?
How should I know, that's up to you!
Otherwise the rules are per usual:
You must upload a JPG (good) or PNG (best) of your character(s) to a publicly accessible web site like PhotoBucket or ImageShack or whatnot;
Links to each entry's image must be left in a comment or comments to this post, preferably with a name for the character and a brief sentence or two about who they are, why they're in the Dinomarines, and possibly just what the heck the Dinomarines are in the first place;
All submissions are due by whenever I get around to checking them on Monday, July 19.
No limit on entries this week, so let 'em fly. Good luck!
One last special plea: please check your links before you post them, in a browser where you're not logged in to the site (like I'll be doing). A lot of times the links you give go to a preview mode instead of to the actual graphic, and I have to try and figure out how to get to the image. Or with Facebook links, sometimes links are to pages where no one but you can get to.
Also, please save your image with the character's name before posting it to the site, it makes keeping them all straight much easier for me. So instead of the default hm3beta-1.png or whatnot, name it DinoMarineJessie.png or somesuch. If you want super special extra suck-up points, you could do what I do, and name it with your user name and then a dash and then the character name, like TopHat-ColonelTRex.png.
Neither of those last two points are "rules" per se, they just make it easier on me on Mondays when I'm cataloging all the submissions. Thanks!