Hammerknight was kind enough to put together a nifty crossword puzzle to help you pass the time this holiday when family time crosses over from warm and endearing to homicide-inducing and you need to just get away for a few minutes. Print it for handy use later while pretending to gaze admiringly at the "Twisted Sister" sweat shirt your grandmother just gave you because she's so hip!
Here's your answer key, in unreadable small size so we don't spoil the challenge (click it for the viewable size):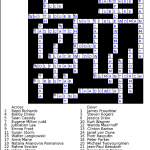 Merry Christmas to all of you celebrating it today! And special holiday thanks to Hammerknight for taking the time to put this together for our collective amusement.