Topic RSS
Item Issues
March 3, 2012
10:55 pm
Canada
Forum Posts: 167
Member Since:
January 31, 2012
Offline
I dont know about any other items but I was messing around with the bug wings and saw that one side is a lot larger than the other. I dont know if this is ment to be just thought id throw it out there incase i wasnt the only one too see it.
"All it takes is one bad day to reduce the sanest man alive to lunacy. That's how far the world is from where I am. Just one bad day. You had a bad day once. Am I right? I know I am. I can tell. You had a bad day and everything changed. Why else would you dress up like a flying rat?"
March 3, 2012
11:00 pm
Jackson, New Jersey
Forum Posts: 964
Member Since:
January 28, 2012
Offline
Yeah, that's just the way they were drawn. I believe they were more or less just a direct transfer from HM 2.5
Quote: "People once believed, that when someone dies, a crow carries their soul to the land of the dead. But sometimes, something so bad happens, that a terrible sadness is carried with it and the soul can't rest. Then sometimes, just sometimes the crow could bring that soul back to put the wrong things right."
.
~~ Opening Narration from "The Crow" ~~
May 26, 2012
8:46 am
Kairula :)
Forum Posts: 1104
Member Since:
January 4, 2012
Offline
I think this is the best place to post this…
I was trying to mask some shading to the new hand-arm (the female one) and got this: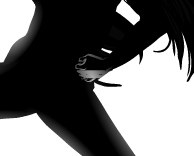 Basically, it's acting just like a hand, when the reason it was created in the first place was so we could have a hand that didn't act like a hand. If you know what I mean.
"But I don't want to go among mad people," Alice remarked. "Oh, you can't help that," said the Cat: "we're all mad here." -Lewis Carroll,
Alice in Wonderland

My Power User Profile
Forum Timezone:
America/Denver
Member Stats:
Guest Posters: 0
Members: 1900
Moderators: 6
Admins: 1
Forum Stats:
Groups: 1
Forums: 37
Topics: 835
Posts: 33718